Everyone has a smartphone these days or at least one of the crew has, in which case it can be pressed into service to help you review your racing tactics or at least provide post match entertainment. There's a few dedicated apps that run in the background of your device and record your track throughout a race.
Predict wind has Tracker which the race management can set up, and it allows others to see where you and anyone else using it are in the same race.  It's very similar to the Yellowbrick tracker used during the RNI and RNZ races but with the limited battery, durability and range issues of a smartphone. The SSANZ triple series this year has been running Tracker, and if you go to their site you can see how it works. Probably better in longer races although plenty of competitors didn't use it, which makes it less than useful in comparing tactics with the other boats in the same division. In race one I simply forgot to start it and in race two, the app asked for $3  during the pre start leaving me fumbling with Apple security questions like what was my first car, was it a Holden or a… Anyway it's all set up now and hopefully will have it running in the third race.
RaceQS is another app that runs on a smartphone and provides a 3-D replay of the race with various tools to see how you compare with other boats. This looks pretty interesting for using in harbour racing, but only if other boats are using it;
The real value in it may be to back up protests, as well as seeing what the competition did to pick all those boat lengths on the beat.
Another bit of free software which may or may not be useful is something called "Boats" it's a simple drawing program that allows you to draw boats and marks and animate them. This is probably most useful to help clarify protest scenarios.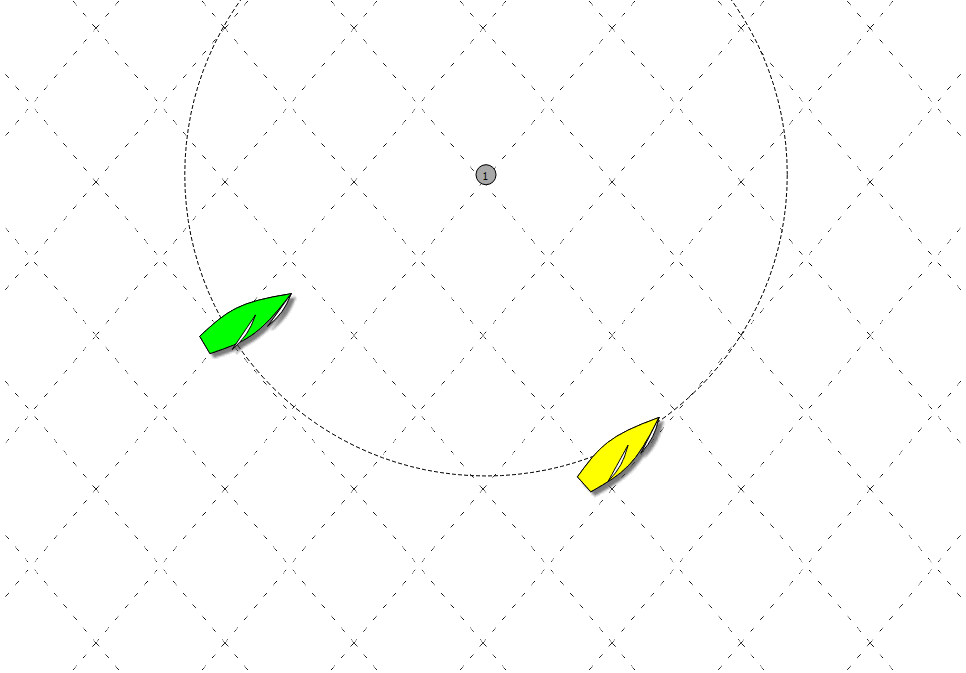 This animation was made in about a minute, it may also help if you happen to need an insurance claim.
Navionics is a must have personal chartplotter, not recommended as a primary navigation tool, its an excellent backup in smartphone form and more than a few people have converted their tablets to permanent plotter with waterproof cases and bulkhead mounts.  It has local tides, currents, and downloads weather grib files for wind predictions. A very useful app and one everyone should have on their phones.
"The app will record your track where distance, speed and duration are shown and stored for reviewing later with playback including geotagged photos or videos taken along the way. But, before setting off, you can plan your routes, measure distances, check wind forecasts, sun/moon phases or add markers to key fishing areas you want to target. You'll be able to save data like tracks, routes, markers and photos and share them with your friends on Facebook, Twitter, or via email"
The latest version is free to download but you pay for the extra features you want.
Sailing software is not going to get you on the water, but it may provide another tool to improve your skills, and if you use something that you think might be useful, send Cherry a link and well update this post.
Good Luck!